The sunyata hotel designed by zhaoyang architects in dali old town china is a boutique courtyard of yin and yang.the abnormal beauty of this project resulted from a few simple solutions to a series of complex project conditions. the design team was given only 390 square meters of space to work with and encountered further restrictions from the city's rigorous building code.
without scenic views to offer the hotel's guests, the architects decided to create a hotel with an inward focus. they crafted an urban escape, like a hidden garden that's a secret to the rest of the world. behind a façade of rusticated stones is a courtyard that takes guests by surprise, and welcomes them into the peaceful serenity of soft grey walls, highlighted by hints of green. the sporadic elements of the structures are tastefully brought together like a collage.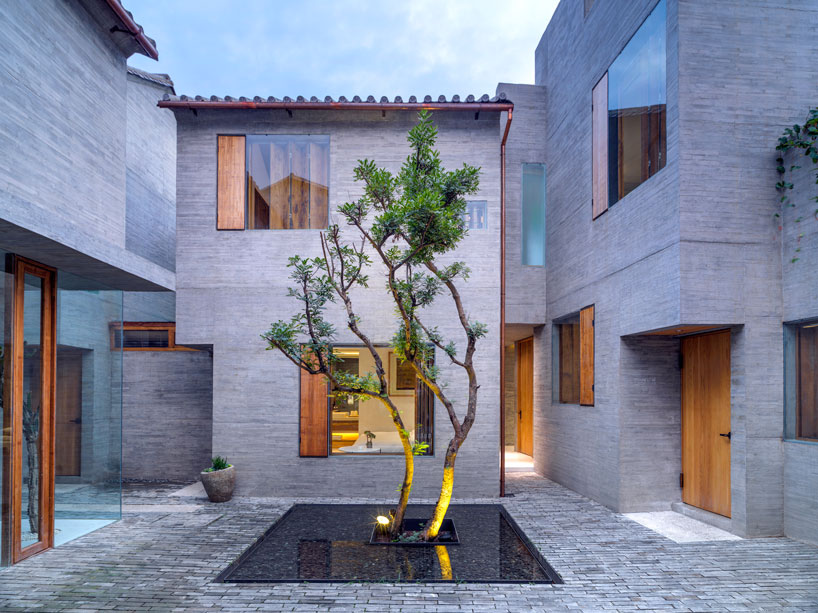 all images by jonathan leijonhufvud
courtyards often have the flaw of being too dark at certain hours of the day; yet, the sunyata hotel doesn't have this problem. zhaoyang architects designed a scheme that allowed transparency of light and vision, making the courtyard an open space where light is cast into all corners, and where shadows and sun mix in a soothing yin and yang. the glass planes are so expertly installed, that even a human would have doubts about their existence/knowing where the space begins and ends.
the building is constructed almost entirely of concrete, which was cast with sandwiched timber boards giving the surface the effect of slender bricks. these concrete spaces weave in and out in a series of negative and positive space, leading up to the roof, which has a more traditional impression. 80 percent of the the roof is pitched with historic tiles due to building codes, giving the minimalist space further eclecticism.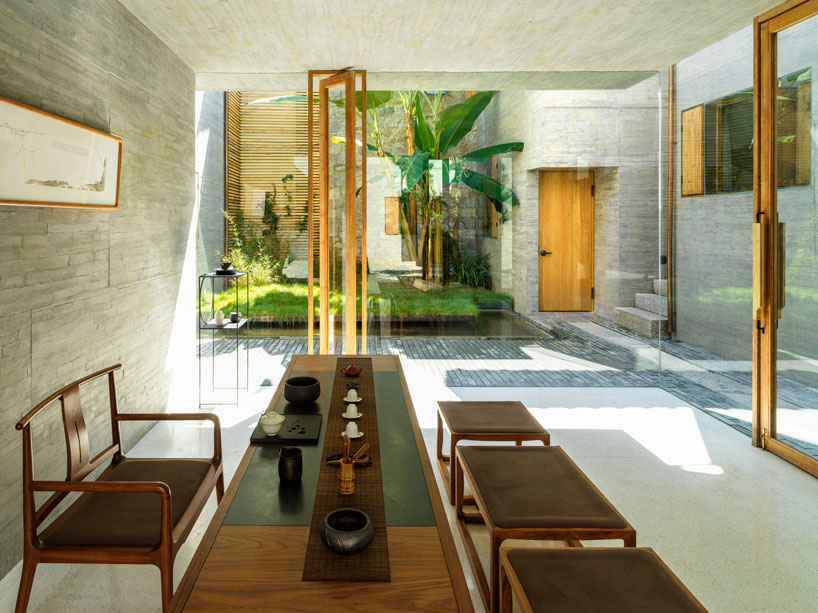 view from the tea room to the back courtyard
the irregular scheme of the courtyard creates a number of interesting rooms, no two alike. each little retreat of the 14 has a personalized charm, but all possess the ebb and flow of solid and void, mimicking the outside courtyard. the architects explained that they considered each individual hotel room as a different building to itself, therefore according to them, the hotel is like a little village, where the series of ad-hoc strategies created a unique user experience. wherever you go in the hotel, the playful division of space entreats your imagination. a room is never just a box, but a labyrinth where the next space is partially revealed, giving the rooms a sensation of openness and grandeur.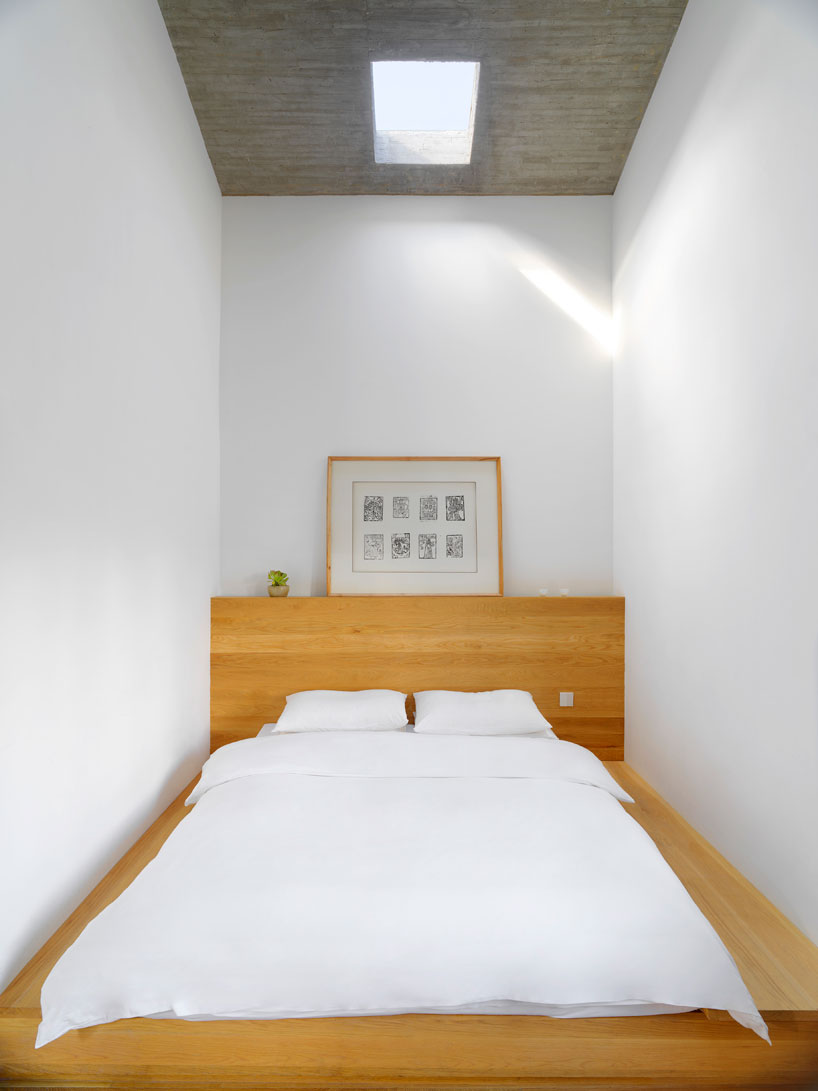 the bed in hotel room number 15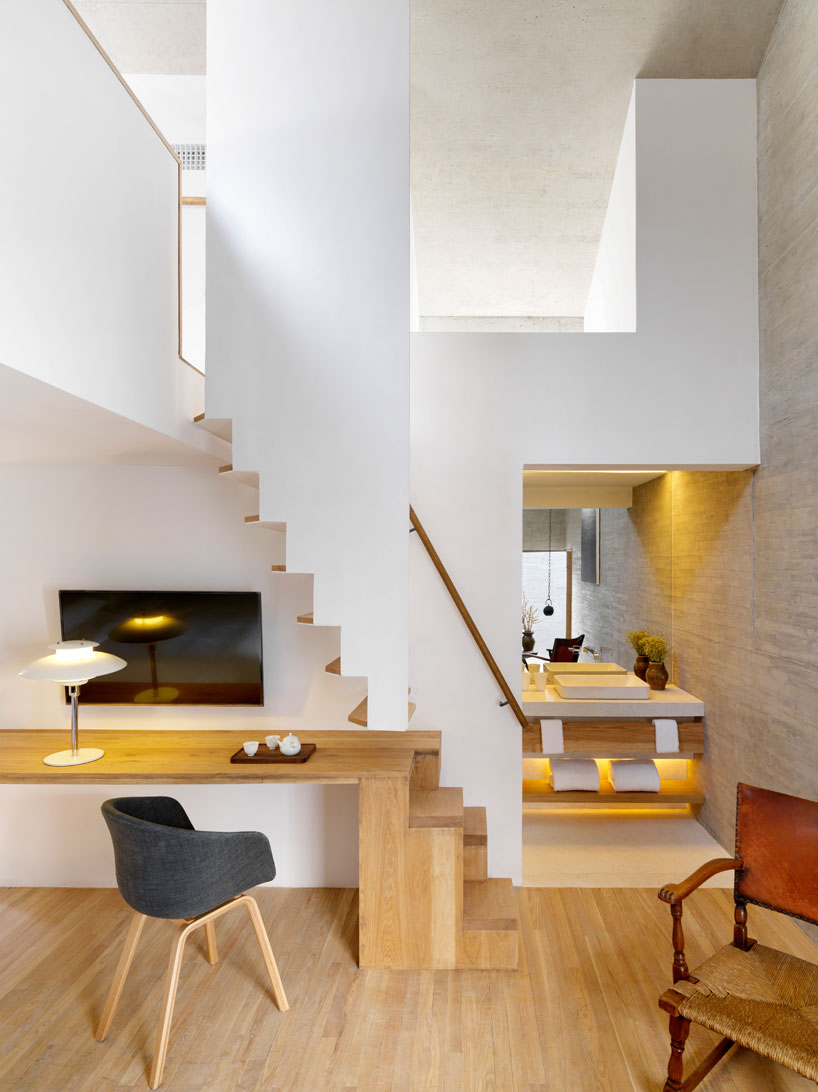 hotel room number 10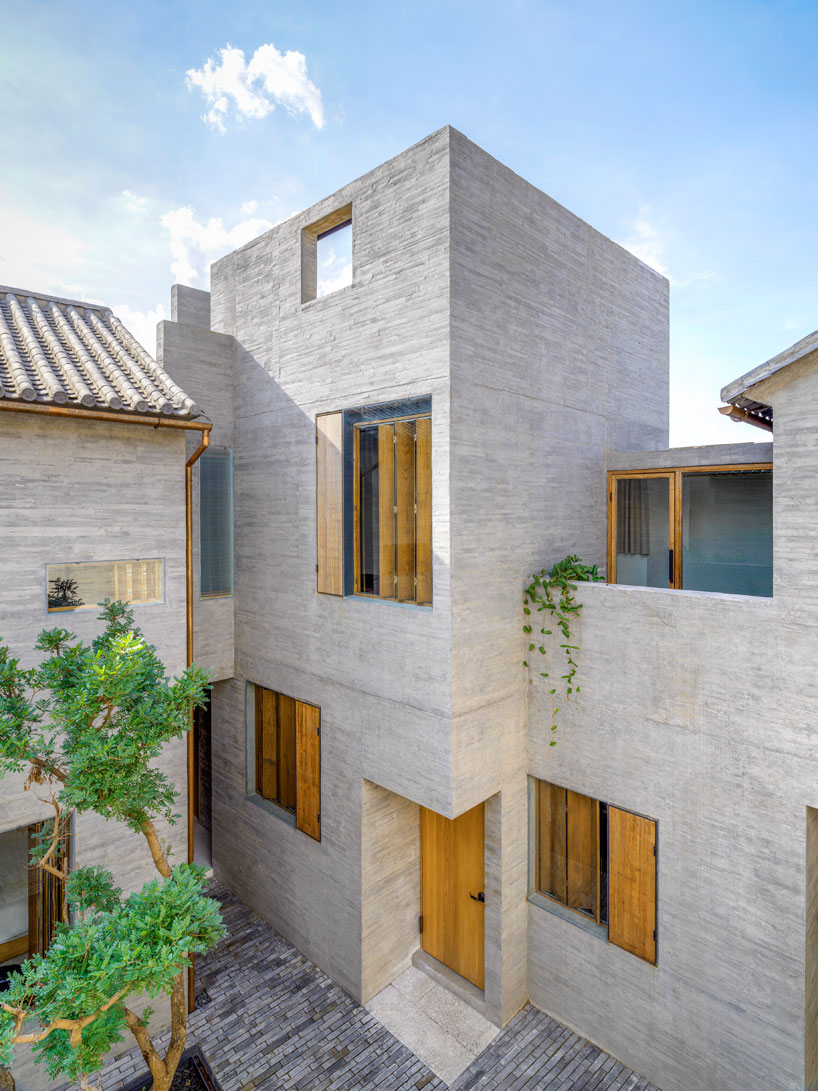 the front courtyard as seen from the second floor corridor
the second floor corridor
Report by designboom.com