The most luxurious typewriter inspired mechanical keyboard. Featuring zinc alloy frame, genuine leather surface, spherical round key caps, pillar feet with adjustable height, and full back light illumination. Available in (1) Wired USB interface with only Windows layout or (2) Wireless Bluetooth+USB hybrid interface with switchable Mac or Windows layout.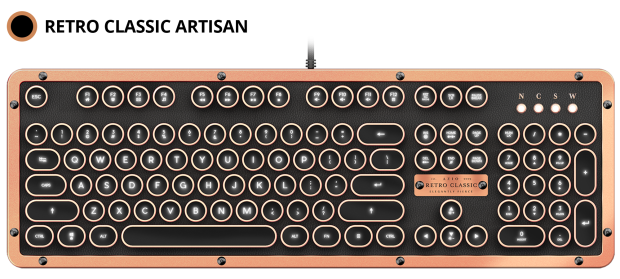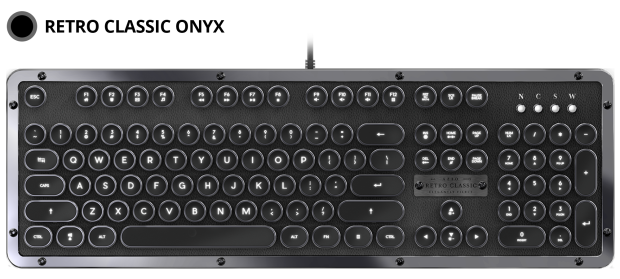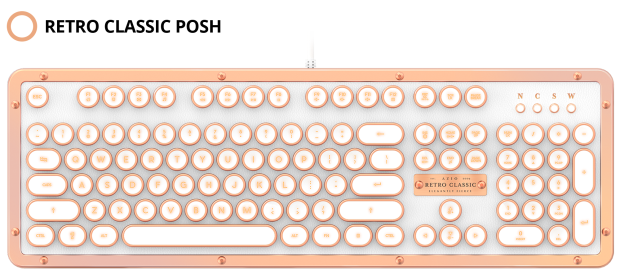 Last year we launched the original MK Retro typewriter inspired mechanical keyboard and it was one of the coolest keyboards we have ever launched. It was an exciting product in its own right but there were many shortcomings that we wanted to improve upon. This year, we took the basics of our original MK Retro and set out to make a mechanical keyboard that truly excited us and hopefully you as well. We took feedback from customers and created one of the most luxurious mechanical keyboards available. Introducing the Azio Retro Classic.
GENUINE & LUXURIOUS
We wanted to incorporate natural materials that not only translates into higher quality build but also bring back the nostalgia of vintage goods that are personable to the physical touch and senses. This keyboard is not just about technical specifications but a certain tangibility that one can feel and connect with.
Through countless prototyping with different materials, we decide to use genuine leather for the top plate. Traditionally, leather has always been associated with high-end customized goods and exclusiveness. It reflects taste, craftsmanship, and culture while emitting a unique charm that inspires.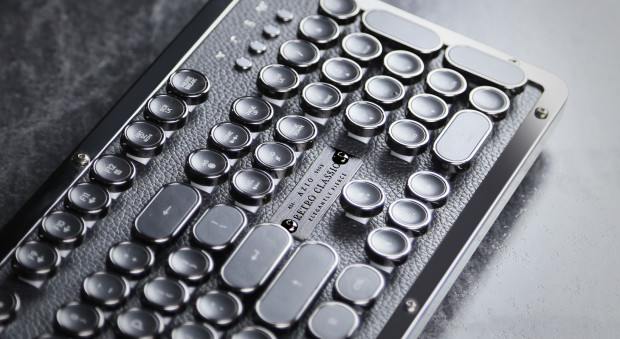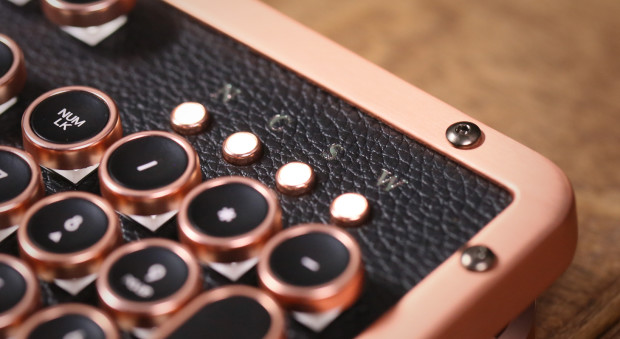 FORGED. POLISHED. PLATED. EVERLASTING.
The keyboard frame is forged with zinc aluminum alloy, then polished and plated into a beautiful black chrome (or satin copper finish) to accompany the leather top plate.  Hex bolts are added for structural enhancements and to add an industrial vintage element to the keyboard.
This alloy frame is corrosion free but through time and use, it will eventually start to bear weathering marks. This adds character to the product and is where we truly see the beauty of using genuine materials.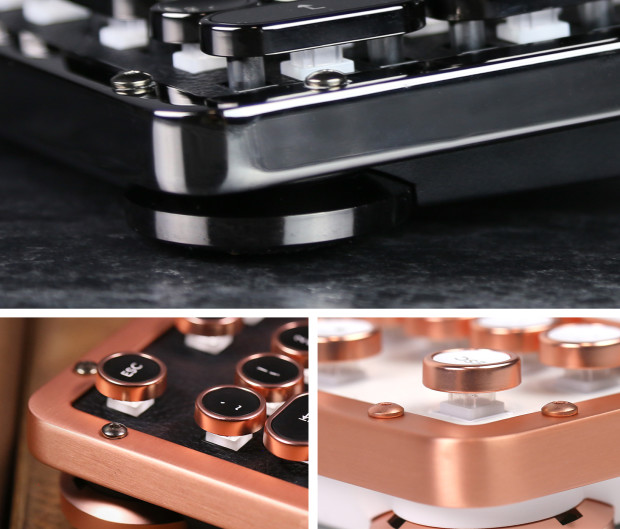 CLICKY. TACTILE. BACKLIT.
We customized each mechanical switch so that the backlight LED is in the center of each key. This allows the keyboard to illuminate evenly and beautifully.
EXCLUSIVE & EXQUISITE FINAL TOUCH
We elegantly designed a custom logo plaque with premium grade brushed anodized aluminum. Each plaque is embossed with the product name and filled with a glossy lacquer paint for a classy shine. This exquisite finish provides the feel of exclusiveness to each and every Retro Classic Keyboard.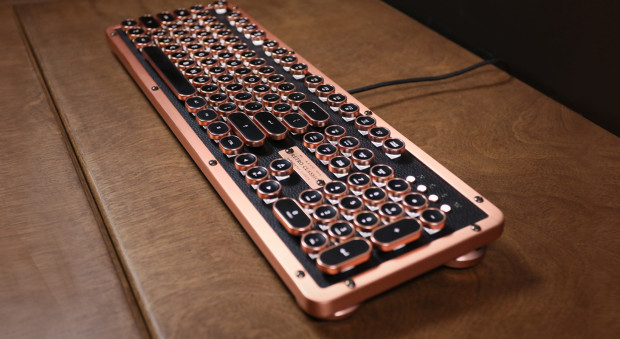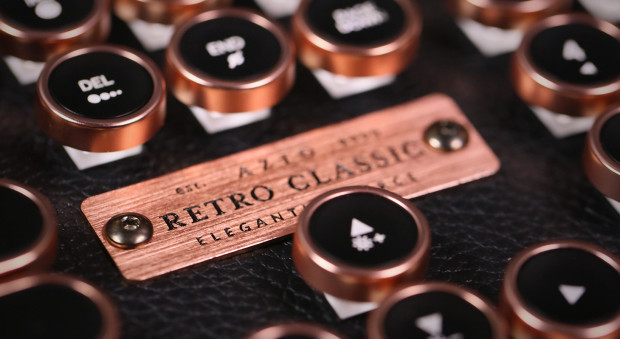 TWO INTERFACE TYPES TO CHOOSE FROM
USB (Wired): Windows layout and USB connection only. ↓

Bluetooth+USB Hybrid (Wired or Wireless): Both Windows and Mac layouts are fully supported. Included are Mac-specific key caps as indicated in orange color in the diagram below. Simply use the built-in switch to select Windows or Mac mode and pop on the respective key caps. This version also have both Bluetooth and USB connections built-in. When in USB mode, simply connect the included Type-C cable to your computer and type away.

Report by indiegogo.com