Over nine decades, MoMA's photography department has become synonymous with the medium's greatest names. From October 2017 to April 2018, the museum will offer more than 400 prints by esteemed artists such as Man Ray, Henri Cartier-Bresson and Ansel Adams in a series of auctions in New York
The Museum of Modern Art (MoMA) in New York began acquiring photographs in 1930. In 1940 it became the first American museum to establish a department devoted to the medium, paving the way for a wider consideration of photography as art. Today, with more than 30,000 prints, MoMA is home to one of the world's most significant photography collections.
The first American institution dedicated entirely to modern art was the vision of the so-called 'daring ladies': Abby Aldrich Rockefeller and her fellow collectors and philanthropists, Lillie P. Bliss and Mary Quinn Sullivan. MoMA opened the doors to its six rented rooms at 730 Fifth Avenue in November 1929, not long after the Black Tuesday stock market crash that triggered the Great Depression.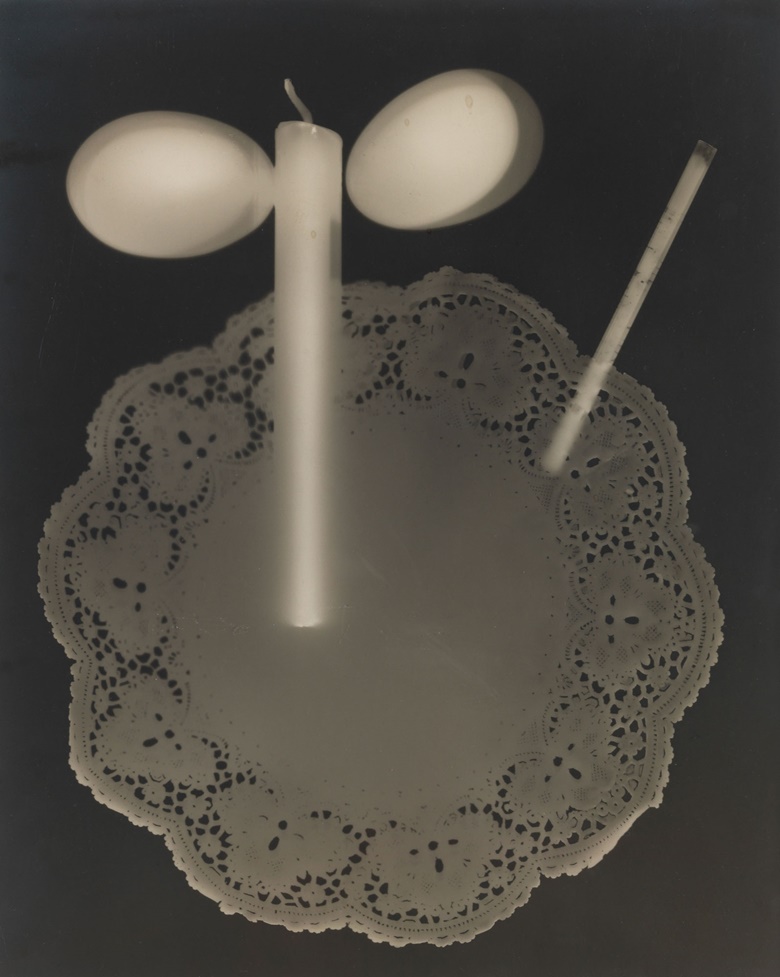 Man Ray (1890-1976), Rayograph, 1923. Unique gelatin silver print, mounted on card. Image/sheet: 11¾ x 9½ in (29.9 x 24.1 cm). Mount: 14¾ x 11 in (37.4 x 27.9 cm). Estimate: $200,000-300,000. This work is offered in the Photographs Day Sale on 10 October at Christie's in New York
Seeking to create a centre for the arts that would be free of the constraints typically encountered by other museums, the three women recruited businessman and collector A. Conger Goodyear, of the Goodyear railroad dynasty, as first president of MoMA. Paul J. Sachs, associate director of Harvard's Fogg Museum as well as a partner in investment firm Goldman Sachs, Vanity Fair  editor Frank Crowninshield, and philanthropist Josephine Boardman Crane all became trustees, and a 27-year-old associate professor of art history at Wellesley College, Alfred H. Barr, Jr., was named MoMA's first director.
For Barr, like 'the daring ladies', MoMA was to be above all a constantly evolving space for educating the public on the interpretation of modern art. It's first mission statement stressed its aim of  'encouraging and developing the study of modern arts… and furnishing popular instruction.'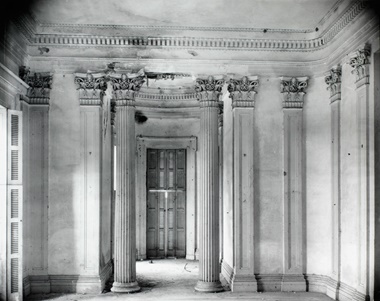 Walker Evans (1903-1975), The Breakfast Room at Belle Grove Plantation, White Chapel, Louisiana, 1935. Gelatin silver print, printed 1969-1970 by James Dow. Image 7¾ x 9½ in (19.6 x 24.1 cm). Sheet 8 x 10 in (20.4 x 25.5 cm). Estimate: $6,000-8,000. This work is offered in the sale Photographs | MoMA: Pictorialism to Modernism in October 2017, Online
Ansel Adams (1902–1984), Clearing Winter Storm, Yosemite National Park, California, 1938. Gelatin silver print, mounted on board, printed by 1963. Image/sheet: 12⅛ x 14⅞ in (30.8 x 37.8 cm). Mount: 22 x 28 in (55.9 x 71.1 cm). Estimate: $60,000-80,000. This work is offered in the Photographs Day Sale on 10 October at Christie's in New York
In 1930, images by Walker Evans became the first photographs in MoMA's collection. Throughout that decade, MoMA was the only American museum to regularly exhibit photography. March 1937 saw the opening of the major survey, Photography 1839-1937, in which cameras and negatives were displayed alongside images that traced the medium's near-100-year trajectory. In 1938, Evans became the first photographer to enjoy a solo show at the museum.
In 1940 Ansel Adams, who had worked to found the museum's photography department that year with curator Beaumont Newhall, helped to organise Sixty Photographs: A Survey of Camera Esthetics, which sought to 'suggest the possibilities of photographic vision'. The exhibit included works by many of the medium's most innovative practitioners, including Berenice Abbott, Eugène Atget, Man Ray, Henri Cartier-Bresson, and Adams himself.
'In many ways, the museum's exhibition program helped to articulate the unique achievements of the artists, while contributing to a broader acceptance of the medium as an art form,' explains MoMA photography department curator Sarah Meister. 'It was the relationships between the curators and the photographers,' Meister notes, 'built while working on these exhibitions, that often resulted in such deep representations of these artists' achievements in the museum collection.'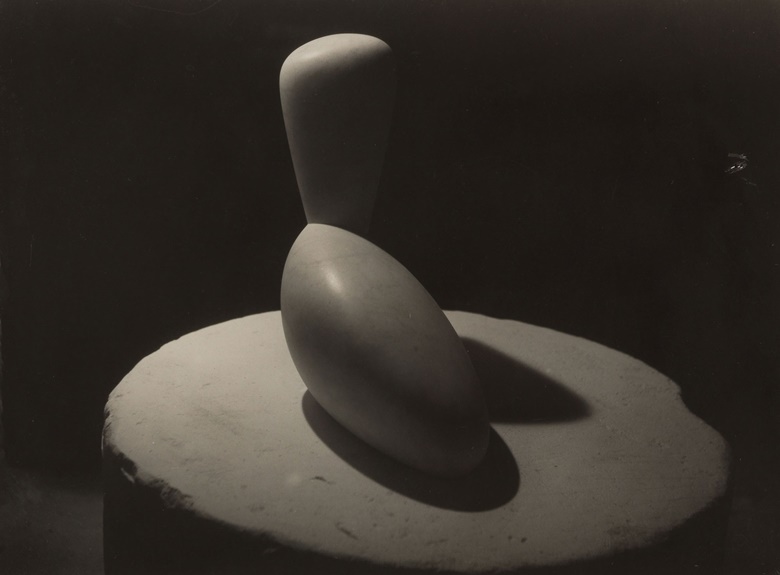 Constantin Brâncuși (1876-1957), Léda, 1920-1921. Gelatin silver print, mounted on card. Image/sheet: 6¾ x 9 in (17.1 x 22.9 cm). Mount: 15 x 18½ in (38 x 46.9 cm). Estimate: $70,000-90,000. This work is offered in the Photographs Day Sale on 10 October at Christie's in New York
The influence of MoMA's photography department continued to grow, bolstered by blockbuster exhibits such as Road to Victory, which opened in May 1942, just six months after the Pearl Harbor attack. Organised by Edward Steichen — then a lieutenant commander in the US Navy, who would go on to direct MoMA's photography department — the show featured 134 images of life in America that, according to the show's press statement, would allow each viewer 'to see himself as a vital and indispensable element of victory'.
In 1952, Diogenes with a Camera  opened at the museum, the first in an exhibition series organised by Steichen that sought to highlight 'photography's contribution to the search for truth'. The series featured prints by contemporary American photographers including Edward Weston, Ansel Adams, Dorothea Lange and Man Ray, whose work the museum deemed to have 'made an outstanding or original contribution to the documentary, the journalistic, the naturalistic, the pictorial and the abstract'.
A monumental success came in 1955 with The Family of Man, whose inclusion of work from a wide range of international photographers was intended as a message of post-war solidarity. The exhibition toured for eight years, visiting 37 countries and drawing more than nine million visitors.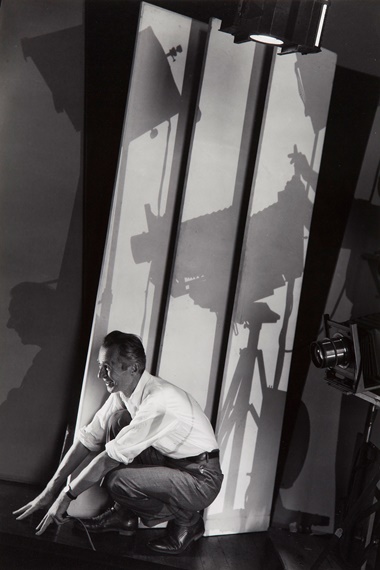 Edward Steichen (1879-1973), Self-Portrait with Photographic Paraphernalia, 1929. Gelatin silver print, mounted on board, printed later. Image: 13⅝ x 9¼ in (34.7 x 23.5 cm). Sheet: 13¾ x 9½ in (35 x 24.2 cm). Mount: 18⅝ x 13½ in (47.4 x 34.3 cm). Estimate: $6,000-8,000. This work is offered in the sale Photographs | MoMA: Pictorialism to Modernism in October 2017, Online
Henri Cartier-Bresson (1908-2004), Coney Island, New York, 1946. Gelatin silver print, flush-mounted on Masonite. Image/sheet/flush mount: 13¾ x 9¼ in (35 x 23.5 cm). Estimate: $50,000-70,000. This work is offered in the Photographs | MoMA: Henri Cartier-Bresson online sale in October 2017
Throughout the 1960s and 1970s, a host of new artists were exhibited at the museum. Lee Friedlander, Diane Arbus and Garry Winogrand, among others, were championed by John Szarkowski, who took over as director of MoMA's photography department in 1962. A committed advocate of photography's expressive power, Szarkowski promoted the medium's status as an art form.
As director, Szarkowski presented The Photographer's Eye  (1964), a wide-ranging show that sought to explain the medium's 'special visual language', and showcased the individual achievements of a range of photographers including Lange, Cartier-Bresson, Brassaï and Evans.
In the 1990 survey Photography Until Now, Szarkowski considered the 150-year progress of the art form he had done so much to promote, underscoring the links between technological and artistic innovation in the medium.
'Many of the works being offered for sale by Henri Cartier-Bresson, Bill Brandt and Walker Evans, for instance, were made in preparation for their MoMA exhibitions'
From October 2017 to April 2018, MoMA will offer 400 photographs in a series of auctions at Christie's in New York. The sales span more than 100 years of photography's history, from 1860s prints by Carleton Watkins and the brothers Louis-Auguste and Auguste-Rosalie Bisson, to works by standout figures of the early 20th century such as Alfred Stieglitz, Edward Weston and Edward Steichen.
Online auctions in October and December 2017 and January and April 2018 will draw out key themes, including photography by women and the shift from Pictorialism to Modernism. Funds raised from the sales will directly support the acquisitions program of the Department of Photography at MoMA.
The online sales include many prints that were made specifically for the museum. 'From the late 1940s through to the 1960s, and in limited circumstances into the 1970s,' notes Darius Himes, International Head of Photographs at Christie's, 'it was common practice for artists to provide more than one print of any given image for an exhibition, or to lend an original negative from which the museum would make prints. Often, the first print was designated for the exhibition itself, while a second print, made by the artist at the same time, was set aside to be used for press or publicity.
'One of the most important works on offer on 10 October is the 1923 Rayograph  by Man Ray, which was gifted by the legendary collector, poet and friend of the artist, Tristan Tzara, one of the founders of Dada,' Himes continues. 'These auctions represent not only a unique opportunity to support MoMA, but also the chance to own a piece of photographic history.'
Sale information
October 2017
MoMA: Pictorialism into Modernism
MoMA: Henri Cartier-Bresson
December 2017
MoMA: Women in Photography
January 2018
MoMA: Garry Winogrand
MoMA: Bill Brandt
April 2018
MoMA: Walker Evans
MoMA: Tracing Photography's History
Report by christies.com